We attach now a survey of CHARLTON HORROR, because the Charlton Company continued some of Fawcett's magazines. Just to be clear.
Fawcett published 14 issues of THIS MAGAZINE IS HAUNTED; Charlton took over for another 7 pre-code issues (plus 5 more in the very late, code-approved 1950s).
Fawcett published 5 issues of STRANGE SUSPENSE STORIES; Charlton took over for (again) another 7 pre-code issues (plus lots more in the very late, code-approved 1950s and even a short run in the late 1960s).
But Charlton had books of their own, of course. Namely 17 issues of THE THING.
CHARLTON HORROR
Charlton Comics began with YELLOWJACKET, an anthology of superhero and horror stories launched September 1944 under the imprint Frank Comunale Publications. In 8 of its 10 issues YELLOWJACKET presented a feature called "Tales of Terror", starting with adaptations of Edgar Allan Poe stories and four original horror stories hosted by an old witch!
These four tales from 1946 precede Avon's horror one-shot EERIE by a whole year and contain a rather spectacular scope of horror lore: Greedy adventurers are killed by falling native idols, wishes are fulfilled but carry a devilish catch, a murderer is brought to justice by the victim's detached hand. Charlton contributed a pioneering effort to the horror genre in comic books.
And that may be the best thing anyone ever has said about Charlton Comics. They have a BAD reputation. Allegedly they didn't care for quality. Artists hated working for Charlton (though they provided work, especially in the post-code late 1950s and early 1960s). Charlton was primarily interested in keeping its in-house printing presses churning.
So let's have an (open-minded, hehe) look at CHARLTON HORROR. Running our laser eyes over the years 1952-54, skipping the "Tales of Terror".
If you should be interested, I wrote a (German!) in-depth-article about those on my website FIFTIES HORROR, take a look HERE and get an automated translation by choosing your language clicking the "widget Google thingy" in the upper left corner.
Spotlight: The Ditko Phase
Though CHARLTON HORROR is associated with artwork by Steve Ditko, he contributed only for a short span of time, from February 1954 to August 1954. His work appears ONLY in THE THING #12-15 (plus the cover of #17), in STRANGE SUSPENSE STORIES #18-20 and in THIS MAGAZINE IS HAUNTED #17 + 18 (plus the covers to #16, 19, 21).
That's a meager 9 books out of 32 issues containing pre-code horror and suspense (not counting the covers, as you may have noticed). Yet Ditko's artwork is so outstanding that he left his distinctive mark on CHARLTON HORROR. Like Lou Cameron did with his jobs for ACE HORROR in 1954 (he needed two full years to develop his mastership). Ditko's got it right from the start. So don't you be disappointed as we're looking through all the Charlton horror comics that Ditko's mostly NOT in there…
The Artists
STEVE DITKO
You all know Ditko. Silver Age superhero giant. Fan favorite for decades. Ran with Stan Lee at Marvel. You know the guy! Well, I don't. I have very little connection with Ditko. Just his pre-code horror work.
The fun fact is that he practically started out with CHARLTON HORROR. His seventh job ever (according to the chronological listing at Grand Comics Database) was "Cinderella" for THE THING #12. Ditko stayed only for six months and made a name for him, very fast.
His style is peculiar. Right from the beginning his pencils and inks "radiate" a flavor of their own. It's clean-cut, with a great sense of space and perspective. His pages are inhabited with truly evil-looking people and beings!
I say it's in the eyes. Ditko draws hypnotic eyes, overly big or strangely slanted eyes!
He left and did a (first) stint at Atlas/Marvel in 1956, then returned to Charlton and contributed to many of their mystery titles. The year 1959 saw him move over to Marvel again. The rest, as they say, is comics history.
BOB FORGIONE
The man who let CHARLTON HORROR out of the gate. The first 11 issues of THE THING bear his mark. His hard-edged style relies on heavy inks and transports a massiveness which isn't always the best approach to horror…
Forgione, too, is a Charlton beginner. Got the boot at the end of 1953 and went looking for work elsewhere. Contributed to ACG's and Atlas/Marvel's horror titles as well as for St. John's WEIRD HORRORS.
ALBERT TYLER
Tyler began by teaming up with Forgione as his inker. In 1952 he was allowed to do a handful of solo stories for Charlton. After some contributions to ST. JOHN HORROR (like his buddy Forgione) he left the business in 1953.
So the first issues of THE THING were made by these two total rookies! Greenhorns come to shock you. Always nice if a publisher cares…
JOHN BELFI
There's an early CHARLTON HORROR "house style", made up by Tyler, Forgione and this guy: John Belfi. He has to count as the "veteran" of the gang, because he (allegedly) appears as early as 1940 at Centaur (first credit) and 1942 at Quality Comics (second credit).
Until 1950 he's just doing piecework here and there. Doing inking stints at DC, Hillman, Prize and Lev Gleason. The next two years find him inking western stories for Magazine Enterprises.
Charlton becomes his main employer (not only for horror) in 1952- 55. Belfi stops working on horror when Ditko and Ayers get on board.
DICK GIORDANO
Was THE prominent crime comics artist for pre-code Charlton books. Began with the likes of LAWBREAKERS, RACKET SQUAD IN ACTION and CRIME AND JUSTICE, then moonlighted for the horror titles as well (mainly STRANGE SUSPENSE STORIES). Great, another rookie!
But this rookie, of course, went on to have a decade-spanning career in comic books. After having spent 15 years at Charlton, he went over to DC and worked alongside Joe Orlando as editor.
I don't care much for Giordano. I believe him to be the archetype of a solid artist doing solid jobs. Drawing really good and making no mistakes. But nothing will grip you. Have a look at his Wikipedia page if you like.
DICK AYERS
The second veteran in our pre-code posse. He began ghosting Joe Shuster on "Funnyman" for Magazine Enterprises in 1948, and then continued there with the western books TIM HOLT, GHOST RIDER and also BOBBY BENSON'S B-BAR B RIDERS.
Atlas invited him over to do horror in 1952-53. His first job for Charlton was the MAD clone EH #1. Because this man can look funny!
Which is what shines through his horror efforts. This is taking some of the edge of the cruelties he so likes to depict.
Ayers by the way continued his grisly career years later in the infamous magazines coming from Eerie Publications. There he relished in depictions of ripped-out eyeballs flying through the air. I direct potential voyeurs to this blog, sadly no more active: "The Bloody Pulp".
And may recommend Mike Howlett's excellent book about this crazy enterprise: "The Weird World of Eerie Publications: Comic Gore That Warped Millions of Young Minds".
Ayers later went on to some respectable fame by being the inker for Jack Kirby at Marvel. "Seven pages a day", as the delightful encyclopedia "Comics Between the Panels" informs us.
SEYMOUR "SY" MOSKOWITZ
Moskowitz is probably only know to pre-code horror aficionados. In the end it boils down to 5 stories he did for CHARLTON HORROR. And 11 more he did for ATLAS HORROR.
His first credited job ever is said to be the 45-page Gilberton CLASSICS ILLUSTRATED #107: "King of the Khyber Rifles". Never seen this book. Too bad.
Around the same time (spring 1953) he has been spotted (by Jim Vadeboncoeur, Jr. and myself) in a Story Comics war title (FIGHTING WAR STORIES #5, I posted it online at the Digital Comic Museum, see it clicking HERE). He's doing the last story.
Then he's murdering the CLASSICS again (#110, "A Study in Scarlet", a Sherlock Holmes mystery).
He then teams up (!) with Steve Ditko (!!) to do a singular story for AJAX-FARRELL HORROR (!!!): As fantastic as that sounds, it seems to be true. "Hair Yee-Eeee" is the name of the story; STRANGE FANTASY #9 is the book; December 1953 is the date.
You can see it online HERE.
Ditko is published at Charlton from February 1954 on; Moskowitz joins the stable in spring and works on SPACE ADVENTURES #10-14. He is sort of a replacement for Ditko and contributes horror stories in late autumn of 1954.
Moskowitz does look just a bit like Ditko, in my opinion. Must be the same inclination to draw strange faces… He left the business in 1955.
Artist overview: Who did how much?
As usual we present a "ranking" of artists' assignments. Let me preface this by saying that I counted jobs, not pages. Most CHARLTON HORROR stories ranged from five to seven pages. So it equals out, more or less…
I neglected all one-page "fillers". Maybe I should have gone for pages, but now it's too late:
| | | |
| --- | --- | --- |
| Steve Ditko | 22 | |
| Bob Forgione | 21 | (4 inked by Vince Alascia) |
| Dick Giordano | 17 | (3 inked by Vince Alascia) |
| John Belfi | 12 | |
| Albert Tyler | 9 | (7 inked by Bob Forgione) |
| Dick Ayers | 8 | (3 inked by Ernie Bache) |
| Joe Shuster | 7 | (inked 5 x by Ray Osrin, each 1 by Vince Alascia and John Belfi) |
| Seymour Moskowitz | 6 | |
| "Collier" | 3 | |
| Bill Molno | 4 | (inked by Ray Osrin) |
| Anthony Tallarico | 4 | |
| Sheldon Moldoff | 3 | (1 inked by Vince Alascia) |
| Bob McCarty | 2 | |
| Ed Waldman | 2 | |
| Steve Kirkel | 4 | |
| Chic Stone | 2 | |
Each 1: Stan Aschmeier, Tex Blaisdell, Stan Campbell, Art Cappello, Sid Check, "TC", Al Fago, Maurice Gutwirth, "Martin", Lou Morales, Bob Powell, Leon Winik (with Ray Osrin).
9 stories remain unidentified (but we believe 2 of those were also inked by Vince Alascia)…
Frankly, I was surprised to see Ditko in the lead. He's only in 9 books. These 9, however, are partly (or wholly) crammed with Ditko. What's striking is how many jobs are splitted into pencils and inks. If you were willing to put Bob Forgione's inkwork into account, he'd be on top of the list with 28 contributions.
Just three men are formative for CHARLTON HORROR. Ditko, Forgione, Giordano.
Underneath that you'll find astonishing art by inventive guys like Ayers, Moskowitz and Kirkel. The rest is graphic landfill by journeymen arists like Belfi, Tyler and that Shuster-Molno-Osrin combo.
Spotlight: Covers and Stories
Who came up with that very peculiar logo "consisting" of ghoul faces, skeletons and fright scenes? There's even an eyeball in the exclamation mark's dot. Very inventive and interesting.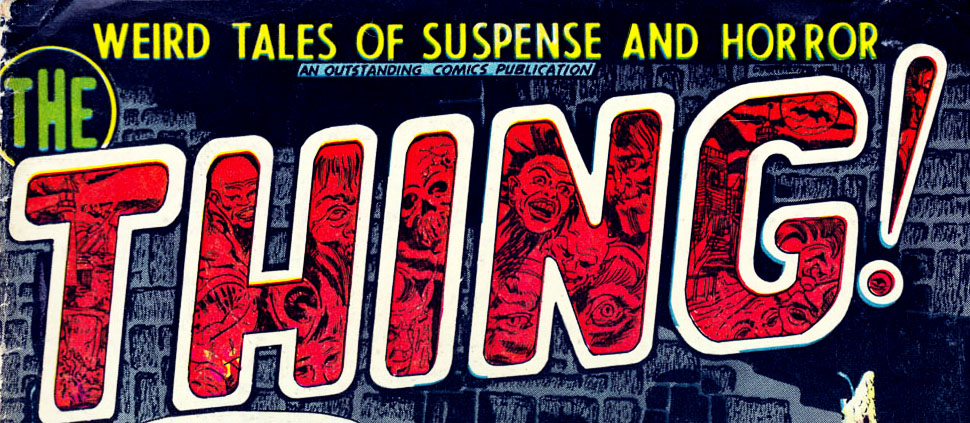 And something EC might have copied for their MAD-logo (from # 24 on, when they went magazine in July 1955). Or has this "technique" been used before (if you know please e-mail me)?
Sadly, they abandoned this nice touch for the last five title pages. It's just a blank and emptied white logo screaming "THING!"
What about the cover motifs? They were mostly wild, moody and sometimes shocking. Crowded, as well. A pell-mell arrangement (and brightly colored, too) of heads and characters. The beholder won't always be able to tell what exactly IS going on – something unholy, that much is sure.
CHARLTON HORROR covers feature horror and mystery in a big way (mainly THE THING). Ditko's are the best. These title pages emanate an alarming disquietude.
Their story titles are mostly very matter-of-fact and by far not as lurid as the artwork.
It's "The Devi's Kiss", "The Road To Madness", "The Tavern Of Terror", "The Gorgon's Claw" or "The Clutch Of Doom". This might be 19th century mystery novels.
The artwork on the other hand can be outright brutal. Not so much for quality, but for content. CHARLTON HORROR confronted their readers with some of the most violent imagery of that era.
It's drastic. I was impressed. They didn't shy away from being "graphic".
In our book-by-book review we'll post the most sensational panels to give you a feeling for what they pulled off inside.
We should probably talk about Charlton's bodiless horror host, The Thing. But I don't want to. I've got a strong aversion against that stupid "Thing". The idea of a "voice-over" host may seem elegant to some, I find it wacky. It annoys me.
And don't get me started on that typographical accentuation by lettering word combinations with "thing" a different way. That's downright silly, folks!
They really did that in some stories. I'll point out where…
CHARLTON HORROR writing is peculiar. Let me stress this point.
Okay, time to be unfair: Describe the horror output of pre-code publishing companies in one word. Atlas is jokey, EC is ingenious, Ace is sophisticated, ACG is clichéd, Harvey is fickle, Fawcett is quirky, Standard is tedious, Gilmor is trashy, Ajax-Farrell and Superior are nutty and Charlton is… daring.
CHARLTON HORROR has a certain edge; they go out on a limb sometimes. They did not re-invent the genre, but they combined elements and patterns in a unique (and daring!) way.
The name "Joe Gill" emerges as kind of a headwriter for Charlton books, but only from 1954 on. There's a Wikipedia article about him. We don't know if he contributed horror scripts. Before 1954 or at all. If you know something, please don't hesitate to drop us a line.
My horror websites are not gospel, but a starting point for research and open for your comments. I'd like to know all there is to know.
CHARLTON  CHRONOLOGY
To give you an overview of the company's output, here's a listing of all their comic books from the beginning of 1952 to the spring of 1955.
Left column: horror books  –  Right column: every other comic book published in these years.
February 1952
THE THING #1
LAWBREAKERS #5
COWBOY WESTERN COMICS #37
March 1952
CRIME AND JUSTICE #6
TRUE LIFE SECRETS #6
April 1952
THE THING #2
LAWBREAKERS #6
COWBOY WESTERN COMICS #38
HOT RODS AND RACING CARS #3
May 1952
CRIME AND JUSTICE #7
RACKET SQUAD IN ACTION #1
TRUE LIFE SECRETS #7
June 1952
THE THING #3
LAWBREAKERS #7
HOT RODS AND RACING CARS #4
July 1952
CRIME AND JUSTICE #8
RACKET SQUAD IN ACTION #2
COWBOY WESTERN COMICS #39 (last)
SPACE ADVENTURES #1
TRUE LIFE SECRETS #8
August 1952
THE THING #4
LAWBREAKERS #8
HOT RODS AND RACING CARS #5
September 1952
CRIME AND JUSTICE #9
RACKET SQUAD IN ACTION #3
SPACE ADVENTURES #2
TRUE LIFE SECRETS #9
October 1952
THE THING #5
LAWBREAKERS #9
HOT RODS AND RACING CARS #6
SPACE WESTERN #40 (first)
November 1952
CRIME AND JUSTICE #10
SPACE ADVENTURES #3
TRUE LIFE SECRETS #10
December 1952
THE THING #6
HOT RODS AND RACING CARS #7
RACKET SQUAD IN ACTION #4
SPACE WESTERN #41
January 1953
LAWBREAKERS SUSPENSE STORIES #10
CRIME AND JUSTICE #11
SPACE ADVENTURES #4
TRUE LIFE SECRETS #11
February 1953
THE THING #7
HOT RODS AND RACING CARS #8
RACKET SQUAD IN ACTION #5
SPACE WESTERN #42
March 1953
LAWBREAKERS SUSPENSE STORIES #11
CRIME AND JUSTICE #12
SPACE ADVENTURES #5
TRUE LIFE SECRETS #12
ATOMIC MOUSE #1
April 1953
THE THING #8
HOT RODS AND RACING CARS #9
RACKET SQUAD IN ACTION #6
SPACE WESTERN #43
May 1953
LAWBREAKERS SUSPENSE STORIES #12
CRIME AND JUSTICE #13
SPACE ADVENTURES #6
TRUE LIFE SECRETS #13
ATOMIC MOUSE #2
June 1953
HOT RODS AND RACING CARS #10
RACKET SQUAD IN ACTION #7
SPACE WESTERN #44
July 1953
THE THING #9
LAWBREAKERS SUSPENSE STORIES #13
CRIME AND JUSTICE #14
SPACE ADVENTURES #7
TRUE LIFE SECRETS #14
ATOMIC MOUSE #3
ZOO FUNNIES #1
August 1953
HOT RODS AND RACING CARS #11
RACKET SQUAD IN ACTION #8
SPACE WESTERN #45 (last)
September 1953
THE THING #10
LAWBREAKERS SUSPENSE STORIES #14
CRIME AND JUSTICE #15
SPACE ADVENTURES #8
TRUE LIFE SECRETS #15
ATOMIC MOUSE #4
ZOO FUNNIES #2
October 1953
HOT RODS AND RACING CARS #12
RACKET SQUAD IN ACTION #9
COWBOY WESTERN COMICS #46 (one shot relaunch)
November 1953
THE THING #11
LAWBREAKERS SUSPENSE STORIES #15 (last)
CRIME AND JUSTICE #16
TRUE LIFE SECRETS #16
ATOMIC MOUSE #5
ZOO FUNNIES #3
December 1953
EH! #1
HOT RODS AND RACING CARS #13
SPACE ADVENTURES #9
COWBOY WESTERN HEROES #47 (one-shot)
January 1954
STRANGE SUSPENSE STORIES #16 (continued from Fawcett)
RACKET SQUAD IN ACTION #10
TRUE LIFE SECRETS #17
ATOMIC MOUSE #6
ZOO FUNNIES #4
SIX-GUN HEROES #24 (first)
February 1954
THE THING #12THIS MAGAZINE IS HAUNTED #15 (continued from Fawcett)
EH! #2
TV TEENS #1
CRIME AND JUSTICE #17
HOT RODS AND RACING CARS #14
ROCKY LANE WESTERN #56 (first)
March 1954
THIS MAGAZINE IS HAUNTED #16
STRANGE SUSPENSE STORIES #17
ATOMIC MOUSE #7
ZOO FUNNIES #5
ROCKY LANE WESTERN #57
TEX RITTER WESTERN #21 (first)
LASH LARUE WESTERN #47 (first)
SPACE ADVENTURES #10
SIX-GUN HEROES #25
TRUE LIFE SECRETS #18
SWEETHEARTS #22 (first)
April 1954
THE THING #13
EH! #3
TV TEENS #2
CRIME AND JUSTICE #18
FUNNY ANIMALS #84 (first)
HOT RODS AND RACING CARS #15
LASH LARUE WESTERN #48
ROCKY LANE WESTERN #58
May 1954
THIS MAGAZINE IS HAUNTED #17
STRANGE SUSPENSE STORIES #18
RACKET SQUAD IN ACTION #11
ATOMIC MOUSE #8
ZOO FUNNIES #6
COWBOY WESTERN #49 (first)
FUNNY ANIMALS #85
TEX RITTER WESTERN #22
ROCKY LANE WESTERN #59
SIX-GUN HEROES #26
ROMANTIC STORY #23 (first)
SPACE ADVENTURES #11
TRUE LIFE SECRETS #19
SWEETHEARTS #23
June 1954
THE THING #14
EH! #4
TV TEENS #3
HOT RODS AND RACING CARS #16
ROCKY LANE WESTERN #60
TEX RITTER WESTERN #23
ROMANTIC STORY #24
SWEETHEARTS #24
July 1954
THE THING #15THIS MAGAZINE IS HAUNTED #18
STRANGE SUSPENSE STORIES #19
EH! #5
CRIME AND JUSTICE #19
ATOMIC MOUSE #9
ZOO FUNNIES #7
COWBOY WESTERN #50
FUNNY ANIMALS #86
HOT RODS AND RACING CARS #17
LASH LARUE WESTERN #49
MY LITTLE MARGIE #1
RACKET SQUAD IN ACTION #12
ROCKY LANE WESTERN #61
SIX-GUN HEROES #27
TRUE LIFE SECRETS #20
August 1954
THIS MAGAZINE IS HAUNTED #19
STRANGE SUSPENSE STORIES #20
EH! #6
TV TEENS #4
ROCKY LANE WESTERN #62
TEX RITTER WESTERN #24
ROMANTIC STORY #25
TRUE LIFE SECRETS #21
SWEETHEARTS #25
SPACE ADVENTURES #12
September 1954
THE THING #16THIS MAGAZINE IS HAUNTED #20
STRANGE SUSPENSE STORIES #21
CRIME AND JUSTICE #20
ATOMIC MOUSE #10
HOT RODS AND RACING CARS #18
LASH LARUE WESTERN #50
MY LITTLE MARGIE #2
ROMANTIC STORY #26
SIX-GUN HEROES #28
October 1954
RACKET SQUAD IN ACTION #13
COWBOY WESTERN #51
FUNNY ANIMALS #87
ROCKY LANE WESTERN #63
TEX RITTER WESTERN #25
SPACE ADVENTURES #13
TRUE LIFE SECRETS #22
SWEETHEARTS #26
TV TEENS #5
ZOO FUNNIES #8
November 1954
THE THING #17 (last)THIS MAGAZINE IS HAUNTED #21 (last)
STRANGE SUSPENSE STORIES #22 (last)
EH! #7 (last)
CRIME AND JUSTICE #21 (last)
ATOMIC MOUSE #11
HOT RODS AND RACING CARS #19
LASH LARUE WESTERN #51
TEX RITTER WESTERN #26
MY LITTLE MARGIE #3
SIX-GUN HEROES #29
TRUE LIFE SECRETS #23
December 1954
COWBOY WESTERN #52
FUNNY ANIMALS #88
GABBY HAYES #51 (first)
LASH LARUE WESTERN #52
ROCKY LANE WESTERN #64
MY LITTLE MARGIE #4
ROMANTIC STORY #27
SWEETHEARTS #27
SOLDIER AND MARINE COMICS #11 (first)
January 1955
RACKET SQUAD IN ACTION #14
BADGE OF JUSTICE #22 (first)
HOT RODS AND RACING CARS #20
MY LITTLE MARGIE #5
ROCKY LANE WESTERN #65
SIX-GUN HEROES #30
SPACE ADVENTURES #14
TRUE LIFE SECRETS #24
ZOO FUNNIES #9
February 1955
THIS IS SUSPENSE #23 (first)
ATOMIC MOUSE #12
BLUE BEETLE #18 (first)
COWBOY LOVE #28 (first)
COWBOY WESTERN #53
DANGER AND ADVENTURE #22 (first)
FROM HERE TO INSANITY #8 (first, formerly "EH!")
FUNNY ANIMALS #89
GABBY HAYES #52
LASH LARUE WESTERN #53
TEX RITTER WESTERN #27
MY LITTLE MARGIE #6
MONTY HALE WESTERN #83 (first)
ROMANTIC STORY #28
SWEETHEARTS #28
SOLDIER AND MARINE COMICS #12
TV TEENS #6
WIN A PRIZE COMICS #1
March 1955
RACKET SQUAD IN ACTION #15
CRIME AND JUSTICE #23
HOT RODS AND RACING CARS #21
LASH LARUE WESTERN #54
ROCKY LANE WESTERN #66
SIX-GUN HEROES #31
SPACE ADVENTURES #15
TRUE LIFE SECRETS #25
ZOO FUNNIES #10
DON WINSLOW OF THE NAVY #70 (first)
April 1955
THIS IS SUSPENSE #24 (code-approved)
BLUE BEETLE #19
COWBOY LOVE #29
COWBOY WESTERN #54
DANGER AND ADVENTURE #23
FROM HERE TO INSANITY #9
FUNNY ANIMALS #90
MY LITTLE MARGIE #7
GABBY HAYES #53
MONTY HALE WESTERN #84
TEX RITTER WESTERN #28
SOLDIER AND MARINE COMICS #13
ROMANTIC STORY #29
SWEETHEARTS #29
WIN A PRIZE COMICS #2 (last)
Two more issues of THIS IS SUSPENSE (#25 and #26) appear under the code in the following months.
THIS MAGAZINE IS HAUNTED has a further run, oddly numbered 12 – 16, from July 1957 to May 1958.
STRANGE SUSPENSE STORIES continue with #27 (?!) as code-approved from October 1955 on.
I was surprised to see how little Charlton started out in 1952. That's just a handful of books. And they go absolutely through the roof when Fawcett closes shop. They relaunch titles from Fawcett like crazy (and a few others from St. John, Mainline and Comic Media as well) – apparently at random.
They also reprint material from Fox (BLUE BEETLE).
They pulled off very strange things in their publication schedule.
Take e.g. COWBOY WESTERN COMICS: Begins in 1948 with #17, continues up to #39 in July 1952. Then takes a pause for one and a half years and comes back as a one-shot with #46! As if  # 40 – #45 had been printed on a bi-monthly basis. But they do not seem to exist. Just to be followed by the next one-shot: COWBOY WESTERN HEROES #47.
Aaand hold it, people, waitaminnit. Got if figured out now: COWBOY WESTERN COMICS gets renamed SPACE WESTERN and bridges that #40-45 gap as this new hybrid title – Fun!
Never seen such machinations at work before.
Most interesting observation concerning Charlton: They did not trust their own products!
Have again a look at the years 1952/53. Charlton has everything. They publish their own lines of crime comics, horror comics, funny animal comics, western comics, romance comics and science fiction comics. They even dare to cook up a "MAD"-imitation ("EH!") and an "ARCHIE"-clone ("TV TEENS").
Comes the year 1954 and Charlton gets hectic. Every month they're picking up and reviving titles from the defunct Fawcett publishing company. By the end of 1954 only few of the "old" titles remain and Charlton blazons with "borrowed feathers".
Note: FAWCETT & CHARLTON HORROR is a spin-off of the German website FIFTIES HORROR (presenting pre-code horror in general to an unsuspecting public). FAWCETT & CHARLTON HORROR specializes in the products of two specific companies and is therefore drafted in the English language. The sister websites ACE HORROR and FICTION HOUSE & STANDARD HORROR are already online. Look for the links just below…
Acknowledgements:
All the folks at the Digital Comic Museum (DCM) and the Grand Comics Database (GCD), who have been incredibly supportive – as always. Special mention goes to Mike Benton and George Suarez, who have been breaking ground for pre-code horror research in the 90s.
And of course a big hand (drumroll) for (you guessed it) Jim Vadeboncoeur, Jr., the man with all the wisdom and generosity.
Jim again loaned me many missing comic books, which I scanned and uploaded to the Digital Comic Museum. Almost all horror magazines from Fawcett and Charlton are now online.
Of course I'll try and complete the run over the years.
If you like to read on, click on our "Series Section"
(MAGAZINE IS HAUNTED / WORLDS OF FEAR / ANOTHER WORLD / BEWARE! TERROR TALES / STRANGE SUSPENSE STORIES / THING) for our issue by issue review for all books.