This website takes an in-depth-look at the 74 pre-code horror comic books from Fawcett and Charlton publishing companies.
Identifying artists, analyzing stories, hinting at nifty details, bespeaking points of interest, poking fun at inadaquacies and posting whole stories. By the way: almost all of the books are available to view and/or download at the Digital Comic Museum.
I took care of some missing issues. So enjoy. And I'm working on completing the whole run, of course. Every issue has been freshly indexed (with the fabulous help of art spotting wizard Jim Vadeboncoeur, Jr.) on the Grand Comics Database – the link will show you all available data, including cover shots and story descriptions.
FAWCETT HORROR
They put out 42 horror comic books, published under 5 titles, which sound quite alike and are bound to be confused.
There's the foolish sounding flagship title THIS MAGAZINE IS HAUNTED.
Launched a month later is WORLDS BEYOND, instantly retitled WORLDS OF FEAR.
Enter UNKNOWN WORLD in summer 1952 – and instantly renamed STRANGE STORIES FROM ANOTHER WORLD. So far, so good. We can handle that.
BEWARE! TERROR TALES comes out at the same time.
And a fifth (shortest lived) title called STRANGE SUSPENSE STORIES. Whooaah.
Who can tell apart STRANGE SUSPENSE STORIES from STRANGE STORIES FROM ANOTHER WORLD respectively all those other WORLD(S)-books!? I find this indeed almost annoying.
Only Atlas/Marvel ran more continuing horror titles.
But it proved to be a short run for Fawcett, because doom lurked in the shadows (in form of a six year long, tedious lawsuit with rival publisher DC about the infringement on Superman's copyright by the mighty Captain Marvel).
Fawcett may not be that heartbroken to leave the hectic comic book business behind, though. They were still thriving with their GOLD MEDAL BOOKS, presenting the eager public with "paperback originals" (an "invention" brought to the US in 1939).
As one of the big comic books outfits, Fawcett joined the horror craze quite late – in the autumn of 1951. Testing the murky waters with their "flagship" title THIS MAGAZINE IS HAUNTED. Only rival company DC stalled a bit longer, launching their HOUSE OF MYSTERY in December.
The rest of publishers to follow were small fry. With the exception of Quality Comics, of course. The November of 1952 saw the publication of their only horror book, WEB OF EVIL.
We wonder today, how and when and by whom the decision was made to put out a new series. In Fawcett's case, however, we have a first-hand account straight from the horse's mouth.
How horror came to Fawcett – Moldoff's payback
The artist Sheldon "Shelly" Moldoff worked in the late 1940s on the EC title "Moon Girl". He claims to have sold Bill Gaines the idea of publishing horror comic books (which Gaines proudly boasted to have been his very own invention, even so in front of the senate subcommittee in 1954).
Moldoff seems to have been sold down the river over legal hassles and Gaines not wanting to cut him in on the profits. The whole matter is fascinatingly captured and retold in the following dialogue.
I leave you with this thrilling excerpt from an interview Roy Thomas (RT) did with Sheldon Moldoff for ALTER EGO #4 (the essential fanzine from TwoMorrows Publishing):
RT: EC changed the title to "Moon Girl Fights Crime", and then dropped "Moon Girl" totally and turned it into a love comic called "A Moon… a Girl… Romance" for four issues. I guess she just never caught on in that time when super-heroes weren't the big thing anymore.
MOLDOFF: Well, as I said, you've got to come out at the right time and the right place. An interesting part of my career – and I have written proof, since I've kept all my records from 'way back.
When Max Gaines was killed in his motorboat accident, his son Bill took over EC. I had met Bill before, but now he was in charge, and I was doing some work for him. I asked him, "How's things going?" He said, "Lousy. The family's considering closing up and getting out of the comic book business."
I said, "Bill, if I give you an idea which I think will be the next trend, will you give me a contract and a percentage of sales if it shows a profit? I only want it if there's a profit; I'd get paid a percentage of the profit. I think I know what's going to come in next." And he said, "I'd be glad to!" I said, "Okay, I'm going to bring you a couple of titles and a little breakdown, and show you what I have in mind."
So when I came back, I showed him two titles. One was "Tales of the Supernatural", and the other was "This Magazine Is Haunted". And I said, "This is going to be it: horror. This is going to come on strong."
RT: What made you think that? Was it the former success of radio shows like "Inner Sanctum"?
MOLDOFF: I just had a feeling. You know, Roy, I have a box of ideas I showed to different people over my career. Many of them have become reality, but not for me! Do you know what I'm saying?
I was always trying, and I just had a feeling this was it, that horror was going to come in. So he said to me, "I'm going to give you a contract. I'll have Dave Alterbaum draw up a contract."
I went home and I started on it. I got Johnny Craig to draw two stories and a cover. Gardner Fox wrote a story; another fellow also did one, I drew a story, and I put the book together. Meanwhile, Dave Alterbaum drew up a contract. I knew him; he had been Max Gaines' lawyer.
RT: And now he was Bill Gaines' lawyer.
MOLDOFF: He was the family lawyer! So I bring the work down, and Gaines has the contract ready, and I sign it, and I'm all excited about it, you know? And he looked at me and said, "Terrific." He likes it.
I said, "I've got some other artists lined up. Do you want me to start on the next one?"
He said, "No, wait, hold it. I'll let you know."
So I go home, and weeks go by, and I don't hear from him. So I called him again and said, "Are you ready for a second issue?"
He said, "No, just hold it; I'll get back to you."
Months go by, and in the meantime I'm busy with other work, I'm doing other things-and now, quite a few months later, I see on the newsstand Bill Gaines' horror books, "Tales from the Crypt" and all this other stuff!
I say, "What the hell is this?" I look at it, and sure enough, it's coming from EC Publications!
So I went running down there, and they're still at Lafayette Street, and I said, "Bill, what is this?"
He said, "I knew you'd be here."
I said, "Well, do you blame me? We have a contract, and you're supposed to use mine! I'm supposed to be the horror man!"
He said, "Well, I decided I'm not going to give percentages. I don't want to give percentages. I'll give you all the work you want, but no percentages."
I said, "No, we had an agreement, and I want you to honor it!"
He said, "Well, there's nothing you can do about it, Shelly. I decided I'm not paying anybody percentages."
So I went down to see Dave Alterbaum, and I said, "Dave, I just came from Bill Gaines', and he's not honoring the contract. What's this all about?"
And he put his arm on me and said, "Shelly, you're young and inexperienced, but you'll learn. There's nothing you can do about it. If you try to sue, we'll blackball you in the business."
Well, I got scared, and I said, "That's terrible! How do you do such a thing like that?" He said, "That's business."
So I went back and talked to my wife, and I was fretting, and I went to see a lawyer somebody had told me to see. And he looked at me and said, "Sheldon, the contract's worthless; it doesn't protect you at all. Next time you have an idea, you get your own lawyer, and you have him protect you! Don't go and depend on somebody else's lawyer, because they'll screw you every time. Unfortunately, there's nothing you can do about it."
RT: Not exactly the avuncular image one usually has of Bill Gaines.
MOLDOFF: I ran into Johnny Craig in the subway months later. I said to him, "You know, he really screwed me, Johnny. You did two horror stories for me, and you know damn well he screwed me!"
He didn't say anything, he just shrugged.
I said, "I know you're in a tough position; you've got a lot of work. But you know damn well he screwed me!" He didn't say anything, he just shrugged, and he went on to be one of the mainstays of the [EC] horror books.
Gaines took the horror stories I had packaged, and he put them in different magazines. One magazine article said that this story by Johnny Craig and one "Moon Girl" horror story I drew were the beginning of Gaines' horror cycle. They gave credit to those two stories for starting it all. And I still have the sheet in my books which shows that I paid Johnny Craig, and the name of the story, and how much I paid him, and the date! So I have all this material, and there's no question that I produced that first book.
I'm very grateful that DC has come out with this new "Batman" book, and the writer, Les Daniels, finally gave me recognition and credit for all the "Batmans" I did. This fellow Steve Korté has been very nice, too. But I'm tired of this horror nonsense being kicked around as Bill Gaines' hall-of-famer, you know, and I want credit for that.
RT: And if you've got proof, there's no reason you shouldn't have it, even if Gaines and Feldstein developed the material later in their own way.
MOLDOFF: If experts test the paper of the documents I've got, they'll see that the paper goes back to 1948; they'll see that this is the original. I paid Johnny Craig and I paid Gardner Fox, and what I paid them is written down here. It was the first EC horror book.
RT: How many of your horror stories did they end up using?
MOLDOFF: There were four stories in all. The one I did myself was in "Moon Girl".
RT: I know that, later, "This Magazine Is Haunted" wound up as a Fawcett title.
MOLDOFF: Right. As a matter of fact, I had shown "This Magazine Is Haunted" and "Tales of the Supernatural" to [Fawcett executive editor] Will Lieberson before I showed them to Bill Gaines, because I trusted Will Lieberson much more. He showed it to the big guys at Fawcett, and he said, "Shelly, Fawcett doesn't want to get into horror now; they don't want to touch that."
Then I went to Bill Gaines! He was my second choice. But after horror started to catch on, I came back and Will Lieberson said, "Let me bring it back to Fawcett again, and see if they'll take the title." And so they did; they took "This Magazine Is Haunted" and "Worlds of Fear" and then "Strange Suspense Stories". What they did was pay me $100 for the title, and give me as much work as I wanted, and I also did the covers. So that went on that way.
RT: Until the whole horror thing collapsed.
MOLDOFF: Well, it had its run, like everything else. They got a little too deadly, a little too gruesome.
RT: I don't think Fawcett's horror comics were ever as strong as at EC and a few other companies.
MOLDOFF: Lieberson said that Fawcett wouldn't go for it. In fact, there was a girl editor named Ginny Proviserio. I did a romance comic with her, and then she did the horror, she did "Haunted".
I believe this version is true to fact. Feels like the affair over which Harvey Kurtzman left EC in anger (the quarrel over MAD in 1956).
Spotlight: The Covers
Moldoff was no good artist – but so weren't Graham Ingels, Wallace Wood and Jack Davis in 1950. They got better, much better; Moldoff didn't.
Nonetheless FAWCETT HORROR has impressed me deeply. They got fine and well-balanced scripts, not too wordy, not too heady, not imitating others, never boring, caring for characters, intelligent, and often ending on a valid twist.
Too bad the artwork wasn't always up to it. FAWCETT HORROR is missing an artist in their stable. Like Cameron and Zansky at Ace, like Toth and Celardo at Standard, like Benulis and Abel at Fiction House, like Ditko at Charlton and so on…
Okay, they got George Evans and Bob Powell. But Evans leaves very soon (too soon!) for EC and Powell only contributes the odd job from the outside. FAWCETT HORROR's regulars are craftsmen but no artists. Bernard Baily? Sheldon Moldoff? Bob McCarty?
They're all okay and doing fine, but they're sadly nothing to get excited about.
Still I say: Please read these books. They will broaden your pre-code-horizon. Because they are very well written. For the greater part.
The covers of their horror magazines are not very good – in my opinion. They are always a bit "off", focusing on weird picture details, depicting people seldomly in full figure, transporting a grubby, scruffy, cruddy, mucky and grungy feeling. (as a German I fell in love with these adjectives – and got carried away, sorry for that)
George Evans (a great artist) can't draw horror covers. Sheldon Moldoff works no magic, let alone with covers. Bernard Baily did fantastic covers (for rival publisher Gilmor/ Key/ Stanmor!); his Fawcett title attempts lack every bit of oomph and are looking rather awkward. According to Grand Comics Database, Baily LEFT Fawcett to become cover artist for the competition! That's a blow.
Of course there's Norman Saunders. Fawcett brought him in to do six wondrous covers, executed like paintings. These are what is remembered most about FAWCETT HORROR. Six. At least six.
Spotlight: The Artists
Fawcett used very few artists to fill their 42 horror books.
This is partly due to their only-three-stories-a-book-policy, but then again they relied on a small bunch of contributors. Let's take a look at the guys.
Sheldon Moldoff
The tragic central character of FAWCETT HORROR. Thrown out the door at EC, he launches HIS OWN line of comic books. To what avail?
Moldoff was motor and most prolific artist for FAWCETT HORROR. Does being turned off by his drawings give me the right me to call him "tragic"?!
He got to fill his own issues, got to do his own thing. For a whole three years.
Were his books any good?
Surely not as good as those from the cheeky bastards over at EC, not as smooth and sensational as the products of Harvey and Atlas, not as impact-laden as the books from Comic Media, Avon, Story, Master or Gilmor/Key/Stanmor, not as glossy and clean-looking as those from Standard, Fiction House, St. John or Ziff-Davis – and surely not as nonsensical and hilarious as those comics from Ajax-Farrell or Superior.
Fawcett held their own. I dearly hope so, anyway. Sheldon Moldoff ran with the pack. In the end he left his mark on the pre-code horror craze. We should be thankful for that. When Charlton takes over in the winter of 1953/54 Moldoff is shown the door again.
There's tragic for you…
Bernard Baily
One of the great horror cover artists! Not for Fawcett, though (as mentioned above).
Baily had been working on DC's "Spectre" feature in MORE FUN COMICS and started tackling FAWCETT HORROR (and suspense stories) in 1951 – being a "founding father" of their horror line and contributing to THIS MAGAZINE IS HAUNTED #1.
Can't say I care much for his style, though. He looks like a cross of Evans and Powell (which sounds spectacular, but isn't when you see it). His stories are more than okay, but I feel like something's missing.
He'll go down in horror history as the artist of "AIEEEEE! The Teeth!", one of the wackiest pre-code horror yarns there ever was. His splash page depicting flying dentures is kind of a prototypical figurehead of comic book craziness of the mid 1950s (if you get my mental/dental drift…).
Allegedly Baily found work for DC's line of code-approved horror books from 1956 on.
Bob Powell
One of my favorite artists in pre-code horror. Top five of the fifties. Going out on a limb here. In my humble opinion Powell is better than Ingels, Davis, Ditko or Cameron. For me he's up there with Krigstein, Kurtzman, Craig and (yes) Crandall. The way these guys set up "lights" and "camera" – absolute magic.
Powell is a visionary of… ahm… vision. And fun, too. There's a caricatural quality to his pudgy and feisty characters.
Were it not for Bob Powell, FAWCETT HORROR may have been a puny footnote in horror history.
Bob Powell (and his small studio) is of course renowned for contributing massively to HARVEY HORROR. But apart from them and Fawcett he also did a few jobs for Ziff-Davis' EERIE ADVENTURES and WEIRD THRILLERS (as well as the singular odd job for St. John and Atlas).
We're only talking horror stories, folks; Powell did tons of other stuff – and never looked bad.
George Evans
Fondly remembered for his excellent work on EC's horror titles (plus CRIME SUSPENSTORIES, SHOCK SUSPENSTORIES and Kurtzman's war books). A portion of his glamour falls upon his work for Fawcett.
He was the in-house all-rounder, depicting not only horror, but romance, western and movie comics as well. In 1951 he drew CAPTAIN VIDEO. His style is realistic; all of his characters have coal-black eyes.
Evans loosened his ties to Fawcett in autumn 1952 (when he delivered first stories for HAUNT OF FEAR, TALES FROM THE CRYPT and VAULT OF HORROR). In February 1953 he was gone.
Bob McCarty
Interesting artist who has been confused with George Evans. Because he looks like a B-version of Evans. McCarty also loves to draw these trademark coal-black eyes, but bigger.
He starts out with Fawcett's western book BOB COLT in 1951, possibly imitating Evans.
A year later he's assigned to FAWCETT HORROR, after he presented material in Prize's BLACK MAGIC.
Working for both companies, McCarty published an impressive 33 stories in the horror genre and came second – considering the output at Fawcett. Only beaten by their "grand seigneur of horror", Sheldon Moldoff.
I think McCarty's underrated. His distinctive, yet peculiar style is pleasant to look at. No master of comic book art, but a highly valuable asset to FAWCETT HORROR.
Ed Waldman
Forgotten veteran artist who hang around the Chesler, Eisner and Iger Shop since the late 1930s.
Did work for EC in 1948/49, and then drew some gangster comics in 1949 for DS/PL Publishing. We suspect he came over to FAWCETT HORROR in the summer of 1952.
He has not been spotted or credited before, because only Jim Vadeboncoeur, Jr. "flashed" on that possibility. And pulled the name "Waldman" out of the crevices of his unfathomable brain…
Waldman's style is just strange. Very very very strange! Have a look at his graphic hodgepodge – if you dare! Then imagine that this guy used to draw romance books!
He signed stories in three issues of Avon's CAMPUS ROMANCE in 1949/50 and somehow found his way to Fawcett in 1952, being assigned to horror only. Very strange, indeed.
Research goes on… hope to get my hands on those Avon books anytime soon.
Postscript September 2013: Waldman's also been credited with some stories for EC's pre-trend CRIME PATROL. You'll find his trademark tilted heads from undershot perspective there as well.
Maurice Gutwirth
O no, there he is again. The phantom of the comics opera. Had to deal with Gutwirth when researching ACE HORROR. His crude and edgy style has been confused with Paul Gattuso's (by fellow art spotters, grrrrowl).
See for example ACG's FORBIDDEN WORLDS #6 ("The Devil's Typewriter"), attributed to Gattuso. The indexer clearly overlooked a hidden signature "MG" on the page sticking out of the typewriter. I'll correct that error – if I ever come around doing ACG HORROR. I'll let it stand for the sheer pedagogic hang of it.
If Gutwirth is to be confused with anybody, it should be George Appel. He looks extremely similar to Gutwirth. Frankly, I suspect them to be the same person. Kidding – out of desperation. I won't delve into that matter now and bore you with art spotting nightmares.
Gutwirth did horror stories for Ace, ACG and Fawcett – and they look terrible.
Even worse than Moldoff. Sorry, but Gutwirth just bores my socks off.
Bud Thompson
Veteran Fawcett staffer who worked on CAPTAIN MARVEL JR. from 1945 to 1953.
When the superhero titles folded, Thompson came over to FAWCETT HORROR and helped out during the last weeks.
Did only five full horror stories in the very last issues of THIS MAGAZINE IS HAUNTED.
A crying shame.
I love Thompson's horror work. This guy's to be discovered!
Let's start the count:
Who did how much?
Since there were no "small jobs" at FAWCETT HORROR (except a handful of one-page "fillers" which seem negligible) we counted story assignments, not the sheer number of pages. Those counts may seem pointless (but I love to do them!) and they always unearth a nugget of trivial information you can throw in at comic books nerds' parties…
And here is the assignment ranking of our Fawcett horror artists (number of jobs in brackets)
| | | |
| --- | --- | --- |
| Sheldon Moldoff | 30 | (with possible assistance by Ed Moline in 5 or 6 cases) |
| Bob McCarty | 19 | |
| Bob Powell | 13 | |
| Ed Waldman | 10 | |
| George Evans | 8 | |
| Maurice Gutwirth | 8 | |
| Bernard Baily | 7 | |
| Leonard Frank | 6 | |
| Bud Thompson | 5 | |
| Mike Sekowsky | 4 | (with possible inking by Vince Alascia or others) |
| Marcus + Mastroserio | 3 | |
| "Jokerface" | 3 | |
| Max Elkan | 2 | |
| William Weltman | 2 | |
Each 1: Edd Ashe, Lou Cameron, Charles Nicholas, Ross Andru, Anthony Cataldo and Doug Wildey.
Some stories are still unidentified, but we got 124 out of 133 – and only 9 stories remain mysterious.
And here's the nugget I found: Horror mainstay Moldoff did NOT contribute to the series STRANGE SUSPENSE STORIES. Interesting, huh?
What do you say? The door's where? Why have I to leave your party?
Spotlight: The Authors
Concerning the authors of FAWCETT HORROR we can probably attribute credits to all those who wrote the two-page text stories. They are mentioned by name, so here is a list of possible contributors:
John Martin
Donald Shaw
Joe K. Jones
Richard Kraus
John C. Adler
Jess Cole
John Martin proved to be quite prolific. Grand Comics Database lists over 140 text stories by him, exclusively for Fawcett. When they closed shop, he went over to Superior and produced horror text stories for the titles STRANGE MYSTERIES and MYSTERIES WEIRD AND STRANGE.
I still hold my ground and say that the writing at Fawcett is above average, but their horror artwork is sometimes hardly bearable. FAWCETT HORROR often presents itself in a dull, weary, listless and lackluster fashion. I exclude Powell, Evans, Baily, Thompson and McCarty. But all the others can look pretty bleak, uninspired and pedestrian in the worst sense.
Remarkable characteristic trait:
All Fawcett horror titles ran THREE stories, not the usual four or five – up to the beginning of the year 1953. Then they suddenly switch to presenting FOUR stories. I suspect adjustment to the horror market, where kids got four or five stories in the books of the competition.
Spotlight: The Fawcett Horror Hosts
Coming late to the horror fair, Fawcett did one absolutely right thing:
They brought their own hosts with them. Good idea, badly executed.
"Dr. Death" functions as the narrator in THIS MAGAZINE IS HAUNTED. The doctor feels just like a pretension, because but he's got no personality. And what's with those "burning eyes"? Is he trying to hypnotize us readers?
He's an annoying wise guy, too. "Dr. Death is never the loser" he informs us when two killers are finally executed. Yeah, we know!
"The Mummy" greets us welcome in BEWARE! TERROR TALES. A strange feller. A "Pruneface" comics haven't seen since the days of Dick Tracy. The Mummy's got the same charisma as Dr. Death, namely nil. You can't even tell if it's a man or a woman. Keep hoping it's a man…
Dr. Death and The Mummy are a stiff odd couple of wannabes. Pretenders playing hosts by jabbering sarcastic phrases. Which goes to show that only the EC "Ghoulunatics" worked fine as narrative characters. I am very much in favor of hosted horror stories (it's a wonderful way to be tongue-in-cheek), but no one except EC got it right.
Comic Media and Gilmor, too, tried a flock of host figures which proved to be utterly dispensable and exchangeable. And forgettable, worst of all! EC gave the Crypt Keeper, the Vault Keeper and the Old Witch more room, more lines, more puns. Al Feldstein's writing WAS tops, that much is sure. But closing my eyes and just "listening", I'd find it very hard if not downright impossible to tell apart the Crypt Keeper from the Vault Keeper.
: – )
Anyway, what I'm saying is, Fawcett used host characters and tried, which is fine. They refrained from hosts in the other series. There's no host in STRANGE SUSPENSE STORIES, WORLDS OF FEAR and STRANGE STORIES FROM ANOTHER WORLD, either.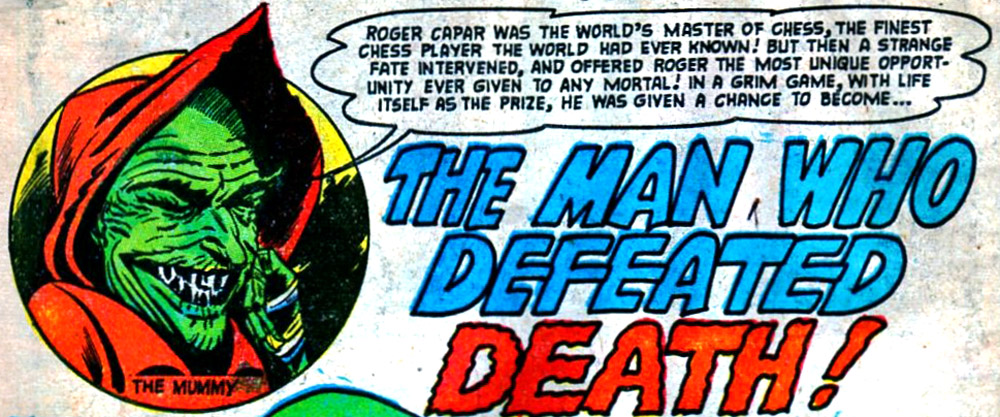 Spotlight: Story Titles and Contents
Concerning the titles of their horror stories, Fawcett gladly used strong words like "Horror", "Death", "Terror", "Doom" and "Ghost" – but there's no clear preference at work here. FAWCETT HORROR presents a wide range of "titling".
It can sound sensational ("The Weirdest Corpse Of All Time" / "The Blind, The Doomed And The Dead"), it can be matter-of-fact ("The Coffin-Maker" / "The Witch Of Tarlo"), it can be quite boring ("The Letters" / "Pillar Of Stone"). Mostly Fawcett went for something gripping. And they had to, because the artwork often was so under par…
They did a fun run with 8 "The Man Who…" titles: "The Man Who Saw Too Much", "The Man Who Lost His Head", "The Man Who Lost His Body", "The Man Who Defeated Death", "The Man Who Could Fly", "The Man Who Warmed The Bones Of The Dead", "The Man Who Outdistanced Death" and "The Man Who Was Monday" (the latter just a text story, I admit).
And I'm not counting "The Hunter Who Became The Hunted" – Lou Cameron's only job for Fawcett.
As for the contents of FAWCETT HORROR, methinks they had a thing going for the afterworld, the underworld, parallel words, other dimensions and "the beyond" in general.
The Devil makes frequent appearances – as does Death in person. People trapped in, drawn into or visiting unworldly realms are a standard topic. Scientific wonders (and mishaps) and curses are next in line. You will hardly find any plots revolving around vampires, werewolves and zombies.
And they have a soft spot for the really nutty stuff: Killer wigs, killer teeth, killer shoes, killer slime, killer manikins, killer androids, killer paintings, killer fish, killer worms, killer fingers – and killer flesh walls!
I've said it before and I'll say it again: I like Fawcett's "horizon broadening" take on horror. I appreciate very much how the stories are written.
A Fawcett Oddity: No Ads
This may be a record: 3 pages of promo ads for Fawcett's other horror titles (namely STRANGE STORIES FROM ANOTHER WORLD, WORLDS OF FEAR and THIS MAGAZINE IS HAUNTED) were often the rule – to be found in any one of their suspense books.
And not a single page or half a page or any snippet of commercial advertising for any kind of product!
FAWCETT HORROR in general abstained from selling their pages to the makers of BB rifles, wonder garments or even Charles Atlas. Defied the man. And he was a kind of superhero!
Did they trifle with earning money? No, siree.
Now we know why they couldn't see that Superman lawsuit through…
A word concerning color
Hafta talk about the way Fawcett highlighted the artists' pages with color. Where other companies simply colored the stories as they deemed fit, Fawcett used a special process best described as… mayhem!
It's disgusting, abhorrent and utterly detestable. Seldom did they bother to depict a person's clothing in different colors. They downright colored whole areas in one color. Person A is shown in red, person B gets to be brown from hair to toe; all of the background is a glaring yellow or orange plane. Yecch!
Problem with FAWCETT HORROR is that the weird (e.g. BAD) coloring is quite dominant and buries most of the artist's effort under that veil of eye-catching garishness.
FAWCETT CHRONOLOGY
To give you an overview of the company's output, here's a listing of all their comic books from the summer of 1951 to the beginning of 1954.
Left column: horror books  –  Right column: every other comic book published in these years.
Sometime in 1951

COWBOY LOVE #11 (last)
ANDY DEVINE WESTERN #2 (last)
YOGI BERRA, BASEBALL HERO (one-shot)
EDDIE STANKY, BASEBALL HERO (one-shot)
PHIL RIZZUTO, BASEBALL HERO (one-shot)
Bob Powell's racecar comic HOT ROD COMICS starts in late 1951 (or early 1952)

July 1951
WHIZ COMICS #135
CAPTAIN MARVEL #122
CAPTAIN MARVEL JR. #99
MARVEL FAMILY #61
BOB COLT #5
SIX-GUN HEROES #9
BILL BOYD WESTERN #16
MONTE HALE WESTERN #62
LASH LARUE WESTERN #18
ROCKY LANE WESTERN #27
GABBY HAYES WESTERN #32
TOM MIX WESTERN #43
HOPALONG CASSIDY #57
JACKIE ROBINSON, BASEBALL HERO #2
BOB SWIFT, BOY SPORTSMAN #2
PINHEAD AND FOODINI #1
SWEETHEARTS #101
ROMANTIC STORY #11
ROMANTIC SECRETS #20
LIFE STORY #28
NYOKA THE JUNGLE GIRL #57
MOTION PICTURE COMICS #105
August 1951
WHIZ COMICS #136
CAPTAIN MARVEL #123
CAPTAIN MARVEL JR. #100
MARVEL FAMILY #62
MASTER COMICS #123
CAPTAIN VIDEO #4
YOUNG EAGLE #5
BOB STEELE WESTERN #5
KEN MAYNARD WESTERN #5
TEX RITTER WESTERN #6
ROD CAMERON WESTERN #10
BILL BOYD WESTERN #17
MONTE HALE WESTERN #63
LASH LARUE WESTERN #19
ROCKY LANE WESTERN #28
GABBY HAYES WESTERN #33
TOM MIX WESTERN #44
HOPALONG CASSIDY #58
WESTERN HERO #105
FAWCETT MOVIE COMIC #12
FAWCETT'S FUNNY ANIMALS #72
SWEETHEARTS #102
EXCITING ROMANCES #4
ROMANTIC SECRETS #21
LIFE STORY #29
NYOKA THE JUNGLE GIRL #58
September 1951
WHIZ COMICS #137
CAPTAIN MARVEL #124
CAPTAIN MARVEL JR. #101
MARVEL FAMILY #63
DON WINSLOW OF THE NAVY #69 (last)
BOB COLT #6
SIX-GUN HEROES #10
BILL BOYD WESTERN #18
MONTE HALE WESTERN #64
LASH LARUE WESTERN #20
ROCKY LANE WESTERN #29
GABBY HAYES WESTERN #34
TOM MIX WESTERN #45
HOPALONG CASSIDY #59
WESTERN HERO #106
JACKIE ROBINSON, BASEBALL HERO #3
BOB SWIFT, BOY SPORTSMAN #3
PINHEAD AND FOODINI #2
SWEETHEARTS #103
SWEETHEART DIARY #7
TRUE SWEETHEART SECRETS #4
ROMANTIC STORY #12
ROMANTIC SECRETS #22
LIFE STORY #30
NYOKA THE JUNGLE GIRL #59
MOTION PICTURE COMICS #106
October 1951
THIS MAGAZINE IS HAUNTED #1
WHIZ COMICS #138
CAPTAIN MARVEL #125
CAPTAIN MARVEL JR. #102
MARVEL FAMILY #64
MASTER COMICS #124
CAPTAIN VIDEO #5
YOUNG EAGLE #6
KEN MAYNARD WESTERN #6
BOB STEELE WESTERN #6
TEX RITTER WESTERN #7
ROD CAMERON WESTERN #11
BILL BOYD WESTERN #19
MONTE HALE WESTERN #65
LASH LARUE WESTERN #21
ROCKY LANE WESTERN #30
GABBY HAYES WESTERN #35
TOM MIX WESTERN #46
HOPALONG CASSIDY #60
WESTERN HERO #107
FAWCETT MOVIE COMIC #13
FAWCETT'S FUNNY ANIMALS #73
SWEETHEARTS #104
EXCITING ROMANCES #5
ROMANTIC SECRETS #23
LIFE STORY #31
NYOKA THE JUNGLE GIRL #60
November 1951
WORLDS BEYOND #1
WHIZ COMICS #139
CAPTAIN MARVEL #126
CAPTAIN MARVEL JR. #103
MARVEL FAMILY #65
BOB COLT #7
SIX-GUN HEROES #11
MONTE HALE WESTERN #66
LASH LARUE WESTERN #22
ROCKY LANE WESTERN #31
GABBY HAYES WESTERN #36
TOM MIX WESTERN #47
HOPALONG CASSIDY #61
WESTERN HERO #108
BOB SWIFT, BOY SPORTSMAN #4
JACKIE ROBINSON, BASEBALL HERO #4
PINHEAD AND FOODINI #3
SWEETHEARTS #105
ROMANTIC STORY #13
ROMANTIC SECRETS #24
LIFE STORY #32
MOTION PICTURE COMICS #107
DOWN WITH CRIME #1
NYOKA THE JUNGLE GIRL #61
December 1951
WHIZ COMICS #140
CAPTAIN MARVEL #127
CAPTAIN MARVEL JR. #104
MARVEL FAMILY #66
MASTER COMICS #125
CAPTAIN VIDEO #6 (last)
YOUNG EAGLE #7
BOB STEELE WESTERN #7
KEN MAYNARD WESTERN #7
TEX RITTER WESTERN #8
ROD CAMERON WESTERN #12
BILL BOYD WESTERN #20
MONTE HALE WESTERN #67
LASH LARUE WESTERN #23
ROCKY LANE WESTERN #32
GABBY HAYES WESTERN #37
TOM MIX WESTERN #48
HOPALONG CASSIDY #62
WESTERN HERO #109
FAWCETT MOVIE COMIC #14
EXCITING ROMANCES #6
SWEETHEARTS #106
SWEETHEART DIARY #8
TRUE SWEETHEART SECRETS #5
ROMANTIC SECRETS #25
LIFE STORY #33
NYOKA THE JUNGLE GIRL #62
MIKE BARNETT, MAN AGAINST CRIME #1
Sometime in 1952

BASEBALL HEROES (one-shot)
THRILLING TRUE STORIES OF THE BASEBALL GIANTS (one-shot)
THRILLING TRUE STORIES OF THE BASEBALL YANKEES (one-shot)

January 1952
WORLDS OF FEAR #2
WHIZ COMICS #141
CAPTAIN MARVEL #128
CAPTAIN MARVEL JR. #105
MARVEL FAMILY #67
BOB SWIFT, BOY SPORTSMAN #5 (last)
BOB COLT #8
SIX-GUN HEROES #12
MONTE HALE WESTERN #68
LASH LARUE WESTERN #24
ROCKY LANE WESTERN #33
GABBY HAYES WESTERN #38
TOM MIX WESTERN #49
HOPALONG CASSIDY #63
WESTERN HERO #110
JACKIE ROBINSON, BASEBALL HERO #5
PINHEAD AND FOODINI #4 (last)
SOLDIER COMICS #1
BATTLE STORIES #1
SWEETHEARTS #107
ROMANTIC STORY #14
ROMANTIC SECRETS #26
LIFE STORY #34
MOTION PICTURE COMICS #108
DOWN WITH CRIME #2
NYOKA THE JUNGLE GIRL #63
February 1952
THIS MAGAZINE IS HAUNTED #3
WHIZ COMICS #142
CAPTAIN MARVEL #129
CAPTAIN MARVEL JR. #106
MARVEL FAMILY #68
MASTER COMICS #126
BOB STEELE WESTERN #8
ROD CAMERON WESTERN #13
BILL BOYD WESTERN #21
KEN MAYNARD WESTERN #8 (last)
YOUNG EAGLE #8
TEX RITTER WESTERN #9
MONTE HALE WESTERN #69
LASH LARUE WESTERN #25
ROCKY LANE WESTERN #34
GABBY HAYES WESTERN #39
TOM MIX WESTERN #50
HOPALONG CASSIDY #64
WESTERN HERO #111
FAWCETT MOVIE COMIC #15
FAWCETT'S FUNNY ANIMALS #74
SWEETHEARTS #108
EXCITING ROMANCES #7
ROMANTIC SECRETS #27
LIFE STORY #35
NYOKA THE JUNGLE GIRL #64
MIKE BARNETT, MAN AGAINST CRIME #2
March 1952
WORLDS OF FEAR #3
WHIZ COMICS #143
CAPTAIN MARVEL #130
CAPTAIN MARVEL JR. #107
MARVEL FAMILY #69
BOB COLT #9
SIX-GUN HEROES #13
MONTE HALE WESTERN #70
LASH LARUE WESTERN #26
ROCKY LANE WESTERN #35
GABBY HAYES WESTERN #40
TOM MIX WESTERN #51
HOPALONG CASSIDY #65
WESTERN HERO #112 (last)
JACKIE ROBINSON, BASEBALL HERO #6 (last)
SOLDIER COMICS #2
BATTLE STORIES #2
SWEETHEARTS #109
SWEETHEART DIARY #9
TRUE SWEETHEART SECRETS #6
ROMANTIC STORY #15
ROMANTIC SECRETS #28
LIFE STORY #36
MOTION PICTURE COMICS #109
DOWN WITH CRIME #3
NYOKA THE JUNGLE GIRL #65
April 1952
THIS MAGAZINE IS HAUNTED #4
WHIZ COMICS #144
CAPTAIN MARVEL #131
CAPTAIN MARVEL JR. #108
MARVEL FAMILY #70
MASTER COMICS #127
ROD CAMERON WESTERN #14
BOB STEELE WESTERN #9
YOUNG EAGLE #9
TEX RITTER WESTERN #10
BILL BOYD WESTERN #22
MONTE HALE WESTERN #71
LASH LARUE WESTERN #27
ROCKY LANE WESTERN #36
GABBY HAYES WESTERN #41
TOM MIX WESTERN #52
HOPALONG CASSIDY #66
HOT ROD COMICS #2
FAWCETT MOVIE COMIC #16
SWEETHEARTS #110
EXCITING ROMANCES #8
ROMANTIC SECRETS #29
LIFE STORY #37
NYOKA THE JUNGLE GIRL #66
MIKE BARNETT, MAN AGAINST CRIME #3
May 1952
BEWARE! TERROR TALES #1
WORLDS OF FEAR #4
WHIZ COMICS #145
CAPTAIN MARVEL #132
CAPTAIN MARVEL JR. #109
MARVEL FAMILY #71
BOB COLT #10 (last)
SIX-GUN HEROES #14
TOM MIX WESTERN #53
MONTE HALE WESTERN #72
LASH LARUE WESTERN #28
ROCKY LANE WESTERN #37
GABBY HAYES WESTERN #42
HOPALONG CASSIDY #67
SOLDIER COMICS #3
BATTLE STORIES #3
FAWCETT'S FUNNY ANIMALS #75
SWEETHEARTS #111
SWEETHEART DIARY #10
TRUE SWEETHEART SECRETS #7
ROMANTIC STORY #16
ROMANTIC SECRETS #30
LIFE STORY #38
MOTION PICTURE COMICS #110
DOWN WITH CRIME #4
NYOKA THE JUNGLE GIRL #67
June 1952
UNKNOWN WORLD #1
THIS MAGAZINE IS HAUNTED #5
STRANGE SUSPENSE STORIES #1
WHIZ COMICS #146
CAPTAIN MARVEL #133
CAPTAIN MARVEL JR. #110
MARVEL FAMILY #72
MASTER COMICS #128
YOUNG EAGLE #10 (last)
TEX RITTER WESTERN #11
ROD CAMERON WESTERN #15
BOB STEELE WESTERN #10 (last)
BILL BOYD WESTERN #23 (last)
MONTE HALE WESTERN #73
LASH LARUE WESTERN #29
ROCKY LANE WESTERN #38
GABBY HAYES WESTERN #43
TOM MIX WESTERN #54
HOPALONG CASSIDY #68
HOT ROD COMICS #3
FAWCETT MOVIE COMIC #17
EXCITING ROMANCES #9
SWEETHEARTS #112
ROMANTIC SECRETS #31
LIFE STORY #39
NYOKA THE JUNGLE GIRL #68
MIKE BARNETT, MAN AGAINST CRIME #4
SUSPENSE DETECTIVE #1
UNDERWORLD CRIME #1
July 1952
BEWARE! TERROR TALES #2
WORLDS OF FEAR #5
WHIZ COMICS #147
CAPTAIN MARVEL #134
CAPTAIN MARVEL JR. #111
MARVEL FAMILY #73
SIX-GUN HEROES #15
TOM MIX WESTERN #55
MONTE HALE WESTERN #74
LASH LARUE WESTERN #30
ROCKY LANE WESTERN #39
GABBY HAYES WESTERN #44
HOPALONG CASSIDY #69
SOLDIER COMICS #4
BATTLE STORIES #4
TRUE SWEETHEART SECRETS #8
SWEETHEART DIARY #11
SWEETHEARTS #113
ROMANTIC STORY #17
ROMANTIC SECRETS #32
LIFE STORY #40
MOTION PICTURE COMICS #111
DOWN WITH CRIME #5
NYOKA THE JUNGLE GIRL #69
August 1952
THIS MAGAZINE IS HAUNTED #6
STRANGE SUSPENSE STORIES #2
STRANGE STORIES FROM ANOTHER WORLD #2
WHIZ COMICS #148
CAPTAIN MARVEL #135
CAPTAIN MARVEL JR. #112
MARVEL FAMILY #74
MASTER COMICS #129
TEX RITTER WESTERN #12
ROD CAMERON WESTERN #16
MONTE HALE WESTERN #75
LASH LARUE WESTERN #31
ROCKY LANE WESTERN #40
GABBY HAYES WESTERN #45
TOM MIX WESTERN #56
HOPALONG CASSIDY #70
HOT ROD COMICS #4
FAWCETT MOVIE COMIC #18
FAWCETT'S FUNNY ANIMALS #76
EXCITING ROMANCES #10
SWEETHEARTS #114
ROMANTIC SECRETS #33
LIFE STORY #41
NYOKA THE JUNGLE GIRL #70
MIKE BARNETT, MAN AGAINST CRIME #5
SUSPENSE DETECTIVE #2
UNDERWORLD CRIME #2
September 1952
BEWARE! TERROR TALES #3
WORLDS OF FEAR #6
WHIZ COMICS #149
CAPTAIN MARVEL #136
CAPTAIN MARVEL JR. #113
MARVEL FAMILY #75
SIX-GUN HEROES #16
MONTE HALE WESTERN #76
LASH LARUE WESTERN #32
ROCKY LANE WESTERN #41
GABBY HAYES WESTERN #46
TOM MIX WESTERN #57
HOPALONG CASSIDY #71
SOLDIER COMICS #5
BATTLE STORIES #5
SWEETHEARTS #115
SWEETHEART DIARY #12
TRUE SWEETHEART SECRETS #9
ROMANTIC STORY #18
ROMANTIC SECRETS #34
LIFE STORY #42
MOTION PICTURE COMICS #112
DOWN WITH CRIME #6
NYOKA THE JUNGLE GIRL #71
October 1952
THIS MAGAZINE IS HAUNTED #7
STRANGE SUSPENSE STORIES #3
STRANGE STORIES FROM ANOTHER WORLD #3
WHIZ COMICS #150
CAPTAIN MARVEL #137
CAPTAIN MARVEL JR. #114
MARVEL FAMILY #76
MASTER COMICS #130
TEX RITTER WESTERN #13
ROD CAMERON WESTERN #17
MONTE HALE WESTERN #77
LASH LARUE WESTERN #33
ROCKY LANE WESTERN #42
GABBY HAYES WESTERN #47
HOPALONG CASSIDY #72
HOT ROD COMICS #5
EXCITING ROMANCES #11
SWEETHEARTS #116
ROMANTIC SECRETS #35
LIFE STORY #43
FAWCETT MOVIE COMIC #19
FAWCETT'S FUNNY ANIMALS #77
BILL BATTLE, THE ONE MAN ARMY #1
NYOKA THE JUNGLE GIRL #72
MIKE BARNETT, MAN AGAINST CRIME #6 (last)
SUSPENSE DETECTIVE #3
UNDERWORLD CRIME #3
November 1952
BEWARE! TERROR TALES #4
WORLDS OF FEAR #7
WHIZ COMICS #151
CAPTAIN MARVEL #138
CAPTAIN MARVEL JR. #115
MARVEL FAMILY #77
SIX-GUN HEROES #17
MONTE HALE WESTERN #78
LASH LARUE WESTERN #34
ROCKY LANE WESTERN #43
GABBY HAYES WESTERN #48
TOM MIX WESTERN #58
HOPALONG CASSIDY #73
SOLDIER COMICS #6
BATTLE STORIES #6
SWEETHEARTS #117
SWEETHEART DIARY #13
TRUE SWEETHEART SECRETS #10
ROMANTIC STORY #19
ROMANTIC SECRETS #36
LIFE STORY #44
MOTION PICTURE COMICS #113
DOWN WITH CRIME #7 (last)
NYOKA THE JUNGLE GIRL #73
December 1952
THIS MAGAZINE IS HAUNTED #8
STRANGE SUSPENSE STORIES #4
STRANGE STORIES FROM ANOTHER WORLD #4
WHIZ COMICS #152
CAPTAIN MARVEL #139
CAPTAIN MARVEL JR. #116
MARVEL FAMILY #78
MASTER COMICS #131
TEX RITTER WESTERN #14
ROD CAMERON WESTERN #18
MONTE HALE WESTERN #79
LASH LARUE WESTERN #35
ROCKY LANE WESTERN #44
GABBY HAYES WESTERN #49
HOPALONG CASSIDY #74
ROMANTIC SECRETS #37
LIFE STORY #45
SWEETHEARTS #118
HOT ROD COMICS #6
BILL BATTLE, THE ONE MAN ARMY #2
FAWCETT MOVIE COMIC #20 (last)
NYOKA THE JUNGLE GIRL #74
SUSPENSE DETECTIVE #4
January 1953
BEWARE! TERROR TALES #5
WORLDS OF FEAR #8
WHIZ COMICS #153
CAPTAIN MARVEL #140
MARVEL FAMILY #79
SIX-GUN HEROES #18
GABBY HAYES WESTERN #50 (last)
MONTE HALE WESTERN #80
LASH LARUE WESTERN #36
ROCKY LANE WESTERN #45
TOM MIX WESTERN #59
HOPALONG CASSIDY #75
ROMANTIC STORY #20
ROMANTIC SECRETS #38
LIFE STORY #46
EXCITING ROMANCES #12 (last)
SWEETHEARTS #119
SWEETHEART DIARY #14 (last)
TRUE SWEETHEART SECRETS #11 (last)
MOTION PICTURE COMICS #114 (last)
FAWCETT'S FUNNY ANIMALS #78
SOLDIER COMICS #7
BATTLE STORIES #7
NYOKA THE JUNGLE GIRL #75
UNDERWORLD CRIME #4
February 1953
THIS MAGAZINE IS HAUNTED #9
STRANGE SUSPENSE STORIES #5 (last)
STRANGE STORIES FROM ANOTHER WORLD #5 (last)
CAPTAIN MARVEL #141
CAPTAIN MARVEL JR. #117
MARVEL FAMILY #80
MASTER COMICS #132
TEX RITTER WESTERN #15
ROD CAMERON WESTERN #19
LASH LARUE WESTERN #37
ROCKY LANE WESTERN #46
HOPALONG CASSIDY #76
HOT ROD COMICS #7 (last)
BILL BATTLE, THE ONE MAN ARMY #3
March 1953
BEWARE! TERROR TALES #6
CAPTAIN MARVEL #142
MARVEL FAMILY #81
SIX-GUN HEROES #19
LASH LARUE WESTERN #38
ROCKY LANE WESTERN #47
TOM MIX WESTERN #60
HOPALONG CASSIDY #77
SWEETHEARTS #120
SOLDIER COMICS #8
BATTLE STORIES #8
SUSPENSE DETECTIVE #5 (last)
April 1953
WORLDS OF FEAR #9
THIS MAGAZINE IS HAUNTED #10
WHIZ COMICS #154
CAPTAIN MARVEL #143
CAPTAIN MARVEL JR. #118
MARVEL FAMILY #82
MASTER COMICS #133 (last)
ROD CAMERON WESTERN #20 (last)
MONTE HALE WESTERN #81
TEX RITTER WESTERN #16
LASH LARUE WESTERN #39
ROCKY LANE WESTERN #48
HOPALONG CASSIDY #78
ROMANTIC STORY #21
ROMANTIC SECRETS #39 (last)
LIFE STORY #47 (last)
FAWCETT'S FUNNY ANIMALS #79
BILL BATTLE, THE ONE MAN ARMY #4 (last)
NYOKA THE JUNGLE GIRL #76
UNDERWORLD CRIME #5
May 1953
BEWARE! TERROR TALES #7
CAPTAIN MARVEL #144
MARVEL FAMILY #83
SIX-GUN HEROES #20
LASH LARUE WESTERN #40
ROCKY LANE WESTERN #49
TOM MIX WESTERN #61 (last)
HOPALONG CASSIDY #79
SWEETHEARTS # 121 (last)
SOLDIER COMICS #9
BATTLE STORIES #9
June 1953
WORLDS OF FEAR #10 (last)
THIS MAGAZINE IS HAUNTED #11
WHIZ COMICS #155 (last)
CAPTAIN MARVEL #145
MARVEL FAMILY #84
FAWCETT'S FUNNY ANIMALS #80
MONTE HALE WESTERN #82 (last)
TEX RITTER WESTERN #17
LASH LARUE WESTERN #41
ROCKY LANE WESTERN #50
HOPALONG CASSIDY #80
ROMANTIC STORY #22 (last)
CAPTAIN MARVEL JR. #119 (last)
NYOKA THE JUNGLE GIRL #77 (last)
July 1953
BEWARE! TERROR TALES #8 (last)
CAPTAIN MARVEL #146
MARVEL FAMILY #85
SIX-GUN HEROES #21
LASH LARUE WESTERN #42
ROCKY LANE WESTERN #51
HOPALONG CASSIDY #81
SOLDIER COMICS #10
BATTLE STORIES #10
UNDERWORLD CRIME #6 (last)
August 1953
THIS MAGAZINE IS HAUNTED #12
CAPTAIN MARVEL #147
MARVEL FAMILY #86
TEX RITTER WESTERN #18
LASH LARUE WESTERN #43
ROCKY LANE WESTERN #52
HOPALONG CASSIDY #82
FAWCETT'S FUNNY ANIMALS #81
September 1953
CAPTAIN MARVEL #148
MARVEL FAMILY #87
SIX-GUN HEROES #22
ROCKY LANE WESTERN #53
LASH LARUE WESTERN #44
HOPALONG CASSIDY #83
SOLDIER COMICS #11 (last)
BATTLE STORIES #11 (last)
October 1953
THIS MAGAZINE IS HAUNTED #13
CAPTAIN MARVEL #149
MARVEL FAMILY #88
TEX RITTER WESTERN #19
LASH LARUE WESTERN #45
ROCKY LANE WESTERN #54
HOPALONG CASSIDY #84
FAWCETT'S FUNNY ANIMALS #82
November 1953
SIX-GUN HEROES #23 (last)
CAPTAIN MARVEL #150 (last)
HOPALONG CASSIDY #85 (last)
December 1953
THIS MAGAZINE IS HAUNTED #14 (last)
January 1954
MARVEL FAMILY #89 (last)
TEX RITTER WESTERN #20 (last)
LASH LARUE WESTERN #46 (last)
ROCKY LANE WESTERN #55 (last)
FAWCETT'S FUNNY ANIMALS #83 (last)